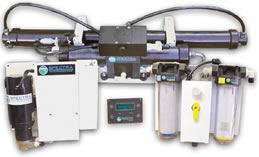 The Catalina 300 is affordable, light weight and compact with all the great features Spectra has become known for. The Catalina is easy to install, simple to use, quiet, very energy efficient and it will deliver 12.5 gallons (47 Liters) per hour while running on 15 amps at 12 volts DC. Catalina 300's modular construction allows for easy owner installation and is ideal for those limited spaces on cruising and racing vessels where more water is needed.

With the Catalina 300 on board, there is no reason to compromise your creature comforts while cruising. You will have plenty of fresh water for boat and gear.

Spectra's exclusive high pressure Intensifier maintains the proper pressures in the system's membrane throughout a wide range of ocean temperatures and water conditions without any adjustments or loss of product water output. The tough composite construction is corrosion resistant for superior reliability.

Every Catalina 300 comes complete including the ultra reliable and efficient SpectraMag™-Pump. The Spectra High Pressure Intensifier is factory mounted with a 40 inch membrane in a Spectra high-pressure vessel assembly. High-pressure piping is pre-plumbed at the factory. The module brackets allow for installation in any orientation. All you provide is the two thru-hull fittings and electrical hook up. A One Year Complete Limited Warranty is available through our world wide distributor network.

To review the complete line of Spectra Watermakers visit www.spectrawatermakers.com
CALL (905)451-3285 OR E-MAIL US FOR MORE INFORMATION